Parts Washing Made Easy
Is Your Washing Area a Mess?
Automated cleaning is not only the best way clean your parts, but it also makes your workflow more efficient, organized and helps you avoid downtime.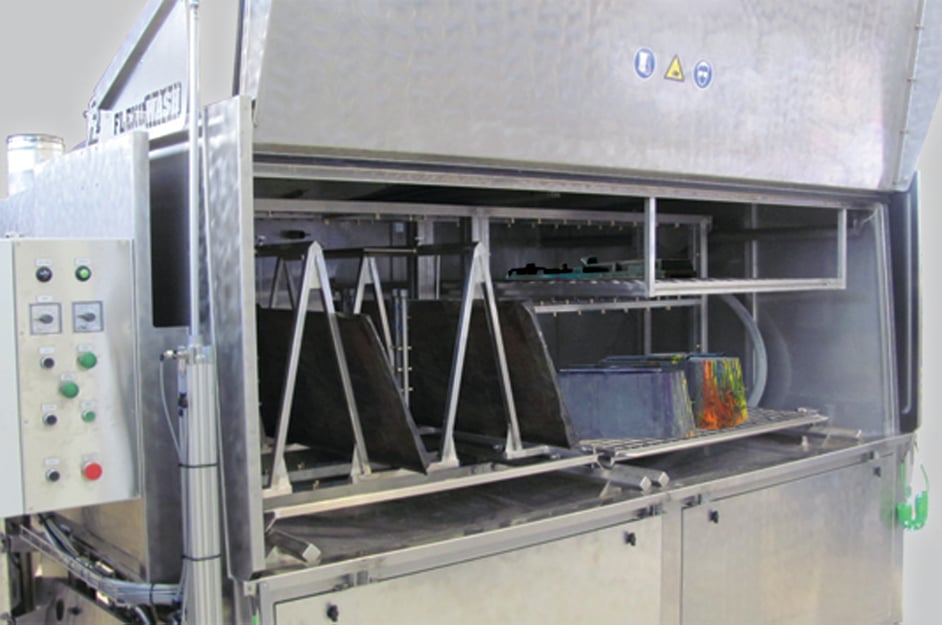 Is your washing space a mess? Full of parts needing cleaning? This is hampering your workflow and your efficiency. When parts aren't clean, downtime is guaranteed.
Our fully-automatic washing units are designed to wash all of the press parts from your wide web presses. They wash ink trays, doctor blades, aniloxes and other removable press parts. It is effective on all types of ink.
Benefits include:
Safe and easy washing
Short washing time
Made for all ink types
Recirculation of cleaning solution
Cleans all press parts
Minimal maintenance
Increased employee safety
Each unit can be customized according to each customer's specific needs. The units are made with a moving nozzle arm. This ensures a dynamic liquid flow and higher pressure to improve the wash result. Flexo Wash parts washers can work with either solvents or environmentally friendly cleaning solutions.
3 Ways to Clean Your Press Parts
What is the best cleaning method for your business? All reduce downtime and add efficiency.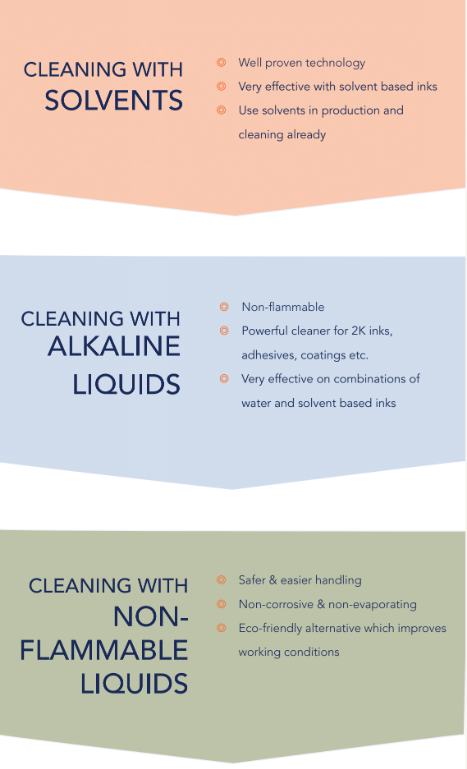 QUICK AND EASY OPERATION
In the standard machines, press parts are placed on a grid and cleaned by nozzles that spray above and below the racks. To improve operation, the parts washer can be arranged with customized racks for rolls, ink trays and with various high performance nozzles. All units can be equipped with a trolley, which makes handling even easier.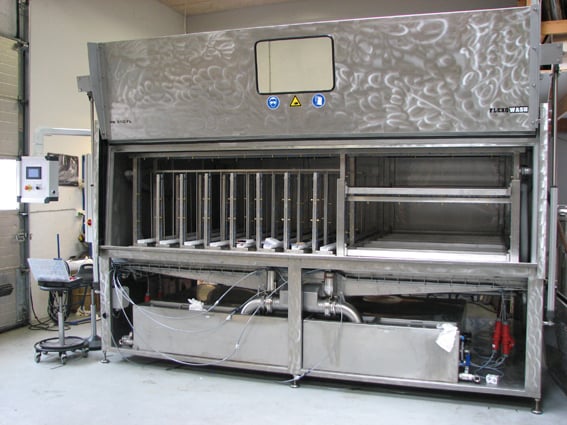 TWO-STAGE CLEANING PROCESS
Flexo Wash Parts Washers have a Wash & Rinse system with two separate tanks for a two-stage cleaning process. The first stage is for cleaning and the second stage is for rinsing.
Washing:
Liquid is sprayed onto the parts by nozzles placed below and above the grid/holders.
Draining:
Lasting approximately five minutes, draining is designed to ensure that as much liquid as possible comes back through an automatic drain valve to the tank for re-use.
Rinsing:
At the end of the wash cycle, there is an automatic rinse in either an open system or closed circuit.
We are always ready to help and guide you to the right solution for your needs.
Fill out the form
We will be in touch to tell you how our solutions can make a difference for your company.