Flexo Wash LLC, based in Louisville, KY, celebrates its 15th anniversary serving North America under the leadership of Mike Potter and his two sons. In 2016 Flexo Wash in Denmark celebrated their 25th anniversary and both have enjoyed strong year-to-year growth ever since. Flexo Wash provides Leading Cleaning Technology to the flexographic, gravure, and offset printing industries.
Flexo Wash came into being a quarter of a century ago when Danish label printer Henning Kongstad became frustrated with the time and effort required to clean and maintain his printing presses. He identified the biggest problem as dirty parts and the knock-on effect they were having on print quality. In addition, the manual process of cleaning was taking up valuable production time with mixed results.
In August 2002, Mike Potter purchased the exclusive distribution rights for the Flexo Wash technology in North America. "Mike knew that if you combined great service with the Flexo Wash technology we could help improve printing processes for the label and package printing industry in North America," explains Patrick Potter, president of Flexo Wash. "He was right."
Mike Potter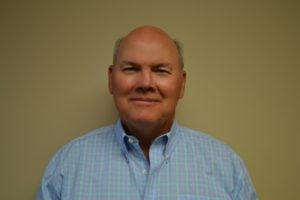 In the beginning the company provided mostly anilox roll cleaning technology in North America. "If the anilox roll is the heart of the flexo printing process and critical to maintaining a well-run operation, proper cleaning, care, and maintenance of anilox inventory is essential to your survival. The absence of good cleaning practices will lead to increased downtime and inconsistent print results," says Mike Potter.
Flexo Wash now serves all sectors of the printing industry with installations around the world. Today, the Flexo Wash portfolio includes anilox cleaning, plate and plate sleeve washing, rotary screen cleaning technology, as well as the original parts washing machines. It has more than 4,000 machines in everyday commercial use worldwide.
Product innovation to speed up downtime and keep customers competitive is still underway and new solutions are continually unveiled. One of the company's new cleaning solutions addressed downtime for wide web converters. The new Flexo Wash FW 992XL Anilox Sleeve Cleaner will clean two wide web anilox sleeves at the same time in about 15 minutes.
Potter attributes trust and loyalty to the ability of keeping up with new technology and cleaning solutions that really work. Repeat customers have kept Flexo Wash serving the needs of wide web and narrow web printers and converters in many sectors over the years from family businesses to multi-national operations.
"We offer a consistently reliable array of cleaning solutions for the printing industries, and we anticipate growth for years to come, supporting the flexographic, offset and gravure package printing industries for daily washing and maintenance," Mike Potter said.
About Flexo Wash
Flexo Wash technology helps customers print better. Their products will extend the life of anilox rolls and sleeves, gravure cylinders, flexo plates, flexo plate sleeves, press parts, and rotary screens, while decreasing the make-ready down time between job runs. Flexo Wash provides "Leading Cleaning Technology" and it is the only company in the world to offer cleaning systems for every need. Visit our website at www.flexowashus.com, email info@flexowashus.com or call 888-493-5396.