Sustainability is more than an environmental buzzword. Sustainability is a key to success for any business. Converters today are charged with establishing better processes which can be maintained long into the future. From an environmental perspective, converters are being asked to choose products which are better for the environment and their employees, while also being effective. In other words, sustainable.
"As a supplier, Sustainability means that same thing at Flexo Wash."
Our entire business is based on helping our customers print better. But our anilox cleaners, plate washers and parts washers are not the only part of our business. The cleaning solutions that are used in our cleaning systems and other applications are just as important.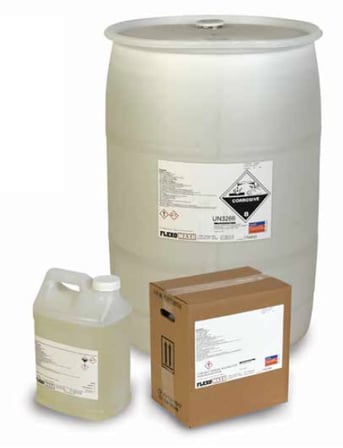 Simple Fact:

Great cleaning solutions do not just clean. They should also be made for less consumption, while providing a safe and better working environment. We have cleaning products to offer which are Low VOC, non-flammable, non-toxic, low pH.
Here's why you should use Flexo Wash Cleaning Solutions:
High durability and safer cleaning environment
Ensure the best possible cleaning result
Focus on working environment
Ensure the best match
High Durability and Safer Cleaning Environment
The Flexo Wash cleaning solutions are highly durable and formulated for easy handling, trouble-free operation and long service intervals. This makes sustainable cleaning liquids an affordable alternative to solvents, thus providing a safer cleaning of press parts and a cleaner environment.
Ensure The Best Possible Cleaning Result
Flexo Wash cleaning solutions are developed to meet today's demands of high print quality and productivity. This is only possible to obtain if you make sure that your aniloxes, printing plates and other press parts are kept clean.
The Working Environment
Flexo Wash cleaning solutions are of high quality and durability. The working environment as well as the environment around us have always been an important parameter to Flexo Wash. We strive to ensure high quality and long lifetime for your aniloxes, print plates and other press parts when using our machines and/or solution.
Ensure The Best Match
Flexo Wash offers a wide range of cleaning liquids for different ink types and applications. Click here to see all of our cleaning products. Please contact us to discuss what is the best cleaning solution for your needs.
Cleaning systems are built to use OUR cleaning solutions.
Flexo Wash machines are at optimal performance when they are used in conjunction with these solutions. Why? Because our cleaning solutions are customized for our machines. They are perfectly matched partners in the cleaning process.
Not only are the Flexo Wash cleaning systems built to clean with these sustainable cleaning solutions, they also consume as little of the solution as possible. In all our machines the liquid is always filtrated and recirculated to be reused.