In the fast-paced and challenging world of flexographic printing today, why should a converter be faced with the additional challenge of deciding how best to care for their anilox rolls? We know that quality printing and quality cleaning go hand in hand.
So, what is the difference between daily cleaning of your anilox rolls and deep cleaning of your anilox rolls? Some people would say that daily cleaning is a lighter, faster clean than deep cleaning.
Flexo Wash knows that you should not have to choose between these two types of cleaning.
Every day, you should be deep cleaning your anilox rolls. Period.
If the anilox roll is the heart of the flexo printing process and critical to maintaining a well-run operation, proper cleaning, along with care and maintenance of your anilox inventory is essential to your survival. The absence of good cleaning practices always will lead to inconsistent print results and increased downtime.
With the modernization of the printing process, new technology has made the cells deeper and more delicate, which causes cells to plug more easily. Plugged anilox rolls cause inadequate ink distribution, poor color densities, difficulties reaching the right color also, it is a waste of time, ink and substrate.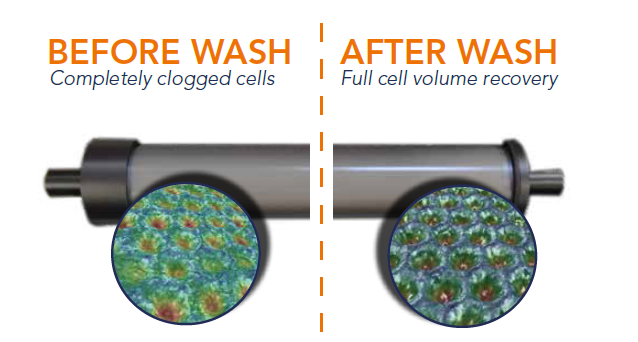 Also, with the newer inks, coatings and adhesives today being more difficult to remove, it is crucial to have a cleaner that can address all of these components.
Waiting to clean until the anilox is no longer performing on press is not an option. The market is too competitive and dirty anilox rolls cause inconsistent print quality, increased downtime, excessive waste and thereby loss of competitiveness.
Also, plugged and dirty anilox create surface tension which prevent cells from accepting and releasing the correct ink volume. This in turn always results in poor bad print quality. You must have a clean anilox roll to have a quality print job.
Choose Daily Deep Cleaning
Converters today have options when choosing how best to clean their anilox rolls. Using an automated system is typically the most efficient and proven method for anilox roll cleaning today. Liquid anilox cleaners and laser anilox cleaners are the predominate automated systems on the market. But, which method will work best for your operation to ensure daily deep cleaning? When making the decision about which automated cleaning method is best for you, please keep in mind your specific needs, current production processes and anilox inventory.
What to consider with anilox cleaners:
Changeovers per day
Production schedule concerns
Number of anilox rolls to be cleaned each day
Location flexibility in plant for anilox cleaning
Environmental questions
Consumables cost
Both the liquid and laser anilox cleaners provide the optimal time to clean your dirty anilox rolls and put them back on press or return them to storage. Flexo Wash uses a safe and gentle cleaning method that can both deep clean your rolls and be used for daily maintenance without harming even the most delicate anilox rolls.
Our proactive cleaning schedule is this:
Clean the rolls after EACH job.
Keep a regular maintenance schedule on the anilox rolls.
Clean the rolls IMMEDIATELY after removal from the press and before storage.
Keep new rolls clean from day one.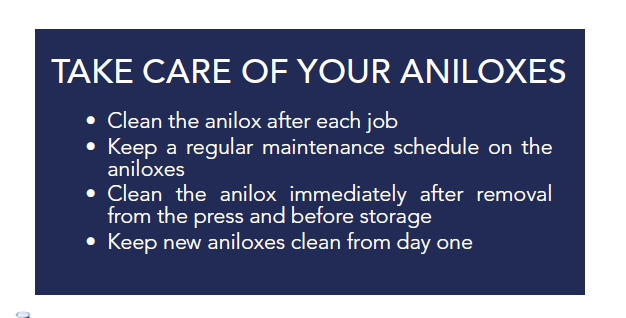 Consistently cleaned anilox rolls guarantee consistent print quality. Most importantly, it ensures a longer lifetime for the anilox rolls.