Is your current parts washing process unsafe for your print operators?

Are you spending too much on labor cleaning parts?

Is a lack of clean parts increasing the press downtime between jobs?

Are dirty parts affecting your print quality?

Are you challenged trying to stay compliant with the latest XP safety regulations?
If you have answered "yes" to any of these questions, it's time to reevaluate your cleaning systems, namely your Parts Washing process.
The Flexo Wash Parts Washers are fully-automatic and designed to wash ink pans, chambers, sumps, pots, lids, hoses, and other removable press parts used with water-based solvents or UV inks.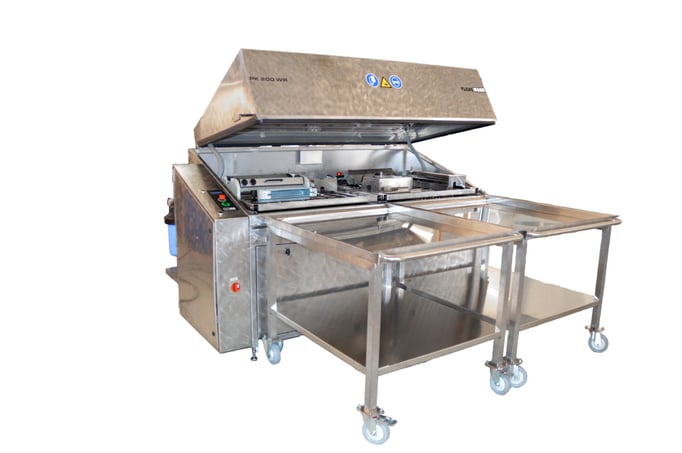 Here are the benefits to a Flexo Wash Parts Washer:
Safe and easy washing
Short washing time
Made for all ink types
Recirculation of cleaning liquid
All stainless steel
Easy loading/unloading
Minimal maintenance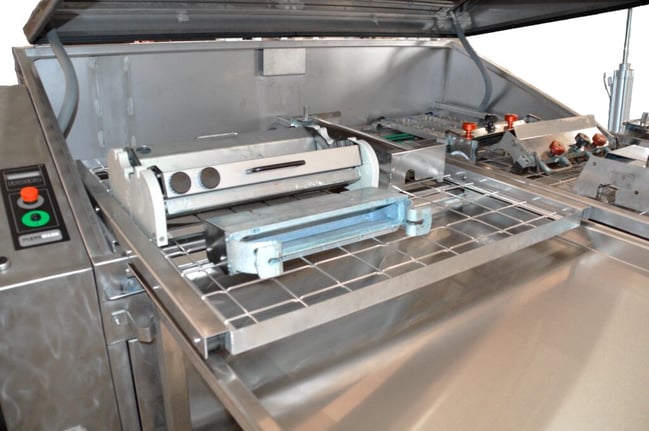 The fully-automatic washing units are designed for easy handling of press parts. It is possible to wash doctor blade chambers, ink trays, ink sumps and other removable press parts used with all types of inks, varnishes etc. This washer uses a quick and effective automatic two stage cleaning process with separate tanks for wash and rinse.
The units are equipped with trolleys, which makes the handling of parts even easier.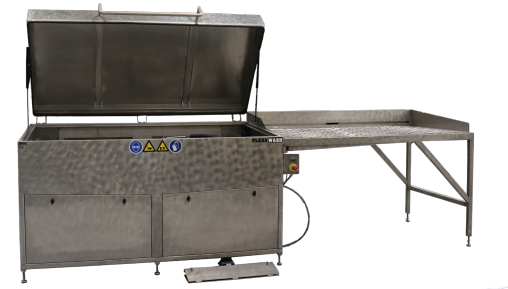 The quick and easy wash operation allows press operators to focus on press make-ready functions and thus reducing the changeover time and the labor involved in washing. This results in reduced downtime, consistent print quality and a safe and healthy cleaning and working environment.
The Parts Washers can be customized according to each customer's specific needs. They are be made with a moving nozzle arm, which ensures a more dynamic liquid flow, a higher pressure and thus an improved wash result.
Flexo Wash parts washers can be built to clean with solvents, alkaline liquids, eco-friendly liquids and distillable eco-friendly liquids.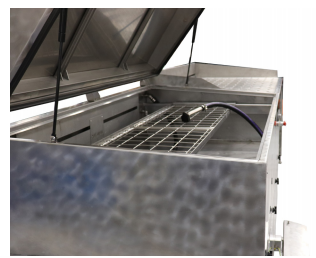 Options and Accessories:
Trolley with slide-in grid for easy handling of parts
Flexible jets to focus spray on difficult to clean items
Racks for ink trays, cylinders and doctor blades
Cleaning of hoses
High performance rotating nozzles for ink buckets
Two-story wash area
Automatic rinse at end of wash cycle — closed circuit
Extra tank, pump and jets for two cleaning liquids
Distillation systems and complete piping between Parts Washer, tanks and distiller
Waste water treatment unit
Check out this video below to see the Parts Washer in action:
Need more information? Please contact us so that we can find a perfect fit for you.