Problem: How do I use the FW Quick Treat on my anilox cleaner?
Answer: Quick treat is just that: a quick treat. Simply spray on your anilox roll and wipe clean. Read more about this process here: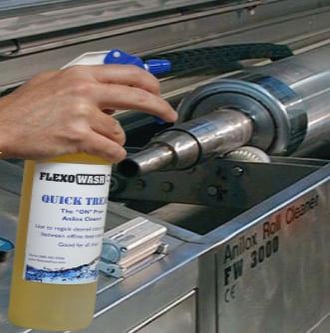 FW Quick Treat is for the manual cleaning of aniloxes between offline deep cleanings. It is quick and easy, just like the name says: Quick Treat.
This is a unique product for manual cleaning because it is non-corrosive and harmless to aluminum. It is a great on-press solution for improved color with a quick turnaround. Another great benefit: it comes in a spray bottle.
Here are some other benefits:
Good for ALL inks
Minimize press downtime
Reduce waste
IT'S GREEN!
Instructions for Use:
Apply Quick Treat to the surface of the anilox.
Use a sponge and apply Quick Treat thoroughly to the surface of the anilox.
Allow the cleaner to remain on the anilox for five minutes.
Wipe the ink from the anilox with a WET lint-free cloth.
Finish drying off the roll with a lint free towel.
The result is a clean anilox, ready for the next job!
Get your batch of Quick Treat by clicking here or emailing us at orders@flexowashus.com.
Please watch this video for further assistance: